THE COST EFFECTIVE SOLUTION FOR HANDLING CONTAINERS & OVERSIZED LOADS
The Combi-SC, Straddle Carrier range is the most economical handling solution for distribution, shipping and industries with heavy and oversized loads. Its manoeuvrability, light footprint and high customisation offer complete independence when moving containers and oversized loads.
COMBI-SC Models:
Standard Chain, Standard Telescopic, Toplift Telescopic, Special Application
CAPACITY
35,000 kg – +100,000 kg
THE PERFECT CONTAINER HANDLING SOLUTION
The Combi-SC range does what it promises: it is a cost-effective and flexible container handling solution which guarantees quick ROI even for companies with relatively low throughput levels.
With the Combi-SC's ability to double stack containers in aisles as narrow as 1.6M you can make more effective use of your storage space.
RELIABLE AND FUEL EFFICIENT
Unmatched reliability, fuel efficiency and much lighter service weight ensure you can maintain maximum levels of productivity.
All Combilift straddle carriers are designed to minimise service downtime. Its straightforward design incorporates standard components which are easy to source for extreme reliability and ease of maintenance wherever you are in the world.
Combilift Straddle Carrier – Handling Heavy Loads Safely & Efficiently
Any company that handles large loads of concrete or structural steel for example is familiar with the risks that are posed when loading trailers with product ready to be sent out to customers. This can often involve the need for working at height as personnel stand on the trailer to guide forklift drivers, or to sling hooks onto loads when using cranes.
To eliminate these hazards, many are turning to Combilift's Combi-SC range of straddle carriers, which allow full loads to be prepared at ground level. Once completed, the Straddle Carrier drives over the top of the load, picks it up in one lift and places it directly on the truck bed ready to be secured for transportation. Lifting and manoeuvering even the heaviest and very cumbersome loads is no problem for the Combi-SC. Its optimum centre of gravity, broad wheelbase and exceptional 3- wheel manouevrability ensure maximum load stability. The centrally located, ground accessible cab offers 360° visibility, the user interface is intuitive and all functions can be carried out from within the cab without the need for operatives to work at height.
And there are many other benefits, as Mike Nesbitt, Equipment Manager at Schulte Building Systems in the US explains: "Doing something the safer way has ended up being the more profitable way too. Our Combi-SCs have not only improved safety in the shop floors and yards but have halved the time it takes to build a load, reduced labour costs and boosted profits."
Read more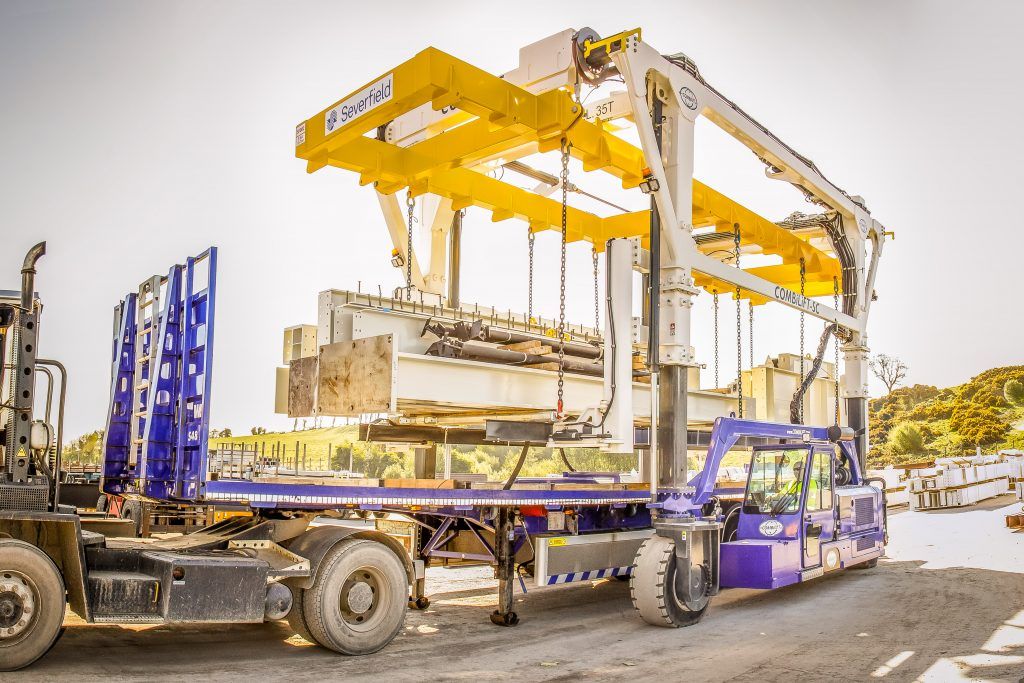 SUPERIOR SAFETY & EASE OF OPERATION
Safety is of paramount importance for Combilift when designing all its handling solutions and the Combi-SC is no exception. Its optimum centre of gravity, broad wheelbase and exceptional 3-wheel manoeuvrability mean maximum load stability.
The centrally located, ground accessible cabin is designed for operator safety and comfort with 360° visibility from the cab meaning they can transport loads in confidence.
The user interface is intuitive and all functions can be carried out from within the cab reducing the need for operatives to work at height, which ensures the highest levels of operator safety and productivity.
FASTER TURNAROUND
The Combi-SC offers unbeatable turnaround speed with safe stuffing/de-stuffing at ground level. It can lift, transport and set down 20', 30', 40' and 45' high cube containers, reefer and flat rack containers.
360˚ visibility from the driver position and 2 minute off-loading from trailer to ground mean faster loading times without the need for trailers waiting to be loaded.
See the Combi-SC in action
LIGHTER FOOTPRINT
The Combi-SC's much lighter unladen weight, at only 17 tonne compared to comparable heavy duty forklifts which can reach 80 tonne, makes it extremely fuel efficient.
The low service weight and large puncture proof flotation tires greatly reduce ground pressure, enabling operation on poor and semi-rough terrain, avoiding the need for costly investment on ground resurfacing or improvement.
The Combi-SC's robust build, its super elastic tyres, a lack of over sensitive electronic components and the ability to work on semi-rough terrain make it the ideal workhorse for any tough environment.
So contact Combilift and we will build you a bespoke carrier ideally suited for your needs which will save you money, increase productivity and much more.
EFFORTLESS DOUBLE STACKING & TRANSPORT UNDER LOW DOORWAYS
The optional telescopic function enables effortless double stacking of containers whilst also being able to telescope down to manoeuvre and set down containers under low doorways.
FASTER THROUGHPUT WITH THE AUTOMATIC TOP-LIFT SPREADER
The optional automatic top lift spreader can be adjusted to handle any ISO containers from within the cab, reducing manual strain and protecting operators from the elements.
Used to grip, pick up and double stack containers by means of four twist locks which enables faster and safer throughput of 20 containers per hour.
SAFER CONTAINER TIPPING
The Combi-SC can tilt containers at an angle of 75° for efficient and safe off-loading of containers of bulk materials such as foodstuffs, scrap material, minerals, plastic granules chemical products and aggregates.
The same machine can invert containers for quick and safe loading of bulk.
REMOTE CONTROL OPTION
Combilift offer a remote control option for the Combi-SC which offers safety and productivity benefits. Increased visibility and easier rigging alignment mean safer conditions. The need for a spotter/banksman in a confined area is eliminated increasing return on investment.
LOAD STABILISER SYSTEM
The retractable load-bearing system which is unique to the Straddle Carrier, supports the suspended load, eliminating swing, greatly increasing safety.
EFFICIENT DOCK LOADING
The Combi-SC has the unique ability to position a container flush with a loading bay door greatly improving loading times.
SOLAS COMPLIANT WEIGHT MEASUREMENT SYSTEM
Combilift has responded to the new SOLAS Regulations which came into force from 1st July 2016, by offering a fully compliant weight measurement system on the Straddle Carrier. The regulations mean that the Verified Gross Mass (VGM) documentation will be required prior to loading cargo onto ships. The new system allows the Straddle Carrier to weigh loads once, in real-time, to an accuracy of +/-1% effectively making it a mobile weighing system. This system is much more efficient than a weighing bridge which must weigh the load multiple times, measuring the same tractor unit with load and without.
SOLAS FEATURES
Accurate to +/- 1%.
OIML compliant – Optional
Rated to IP67
Stainless steel load measuring pins
1 x Ruggedised cab mounted tablet for data storage
Combi-SC can be considered mobile weighing system within a given area with all the advantages of the Straddle Carrier
Highly cost-effective in comparison to fixed weighing system that cannot easily be relocated
CHOOSE A COMBI-SC TYPE
Find the COMBi-SC model that suits your requirements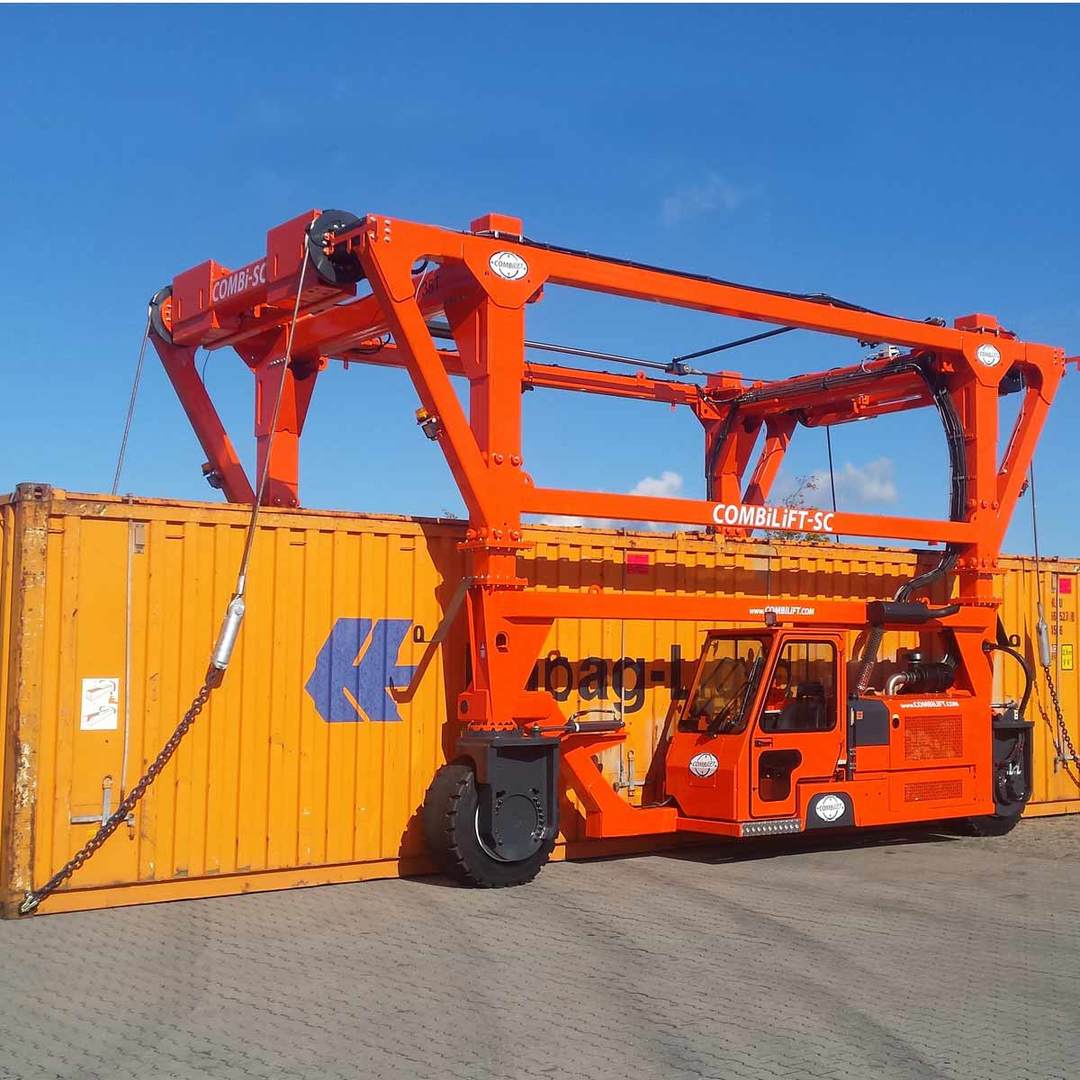 STANDARD CHAIN
Low volume, standard chain, straddle carriers, primarily for the loading and unloading from trailer to ground of containers and various loads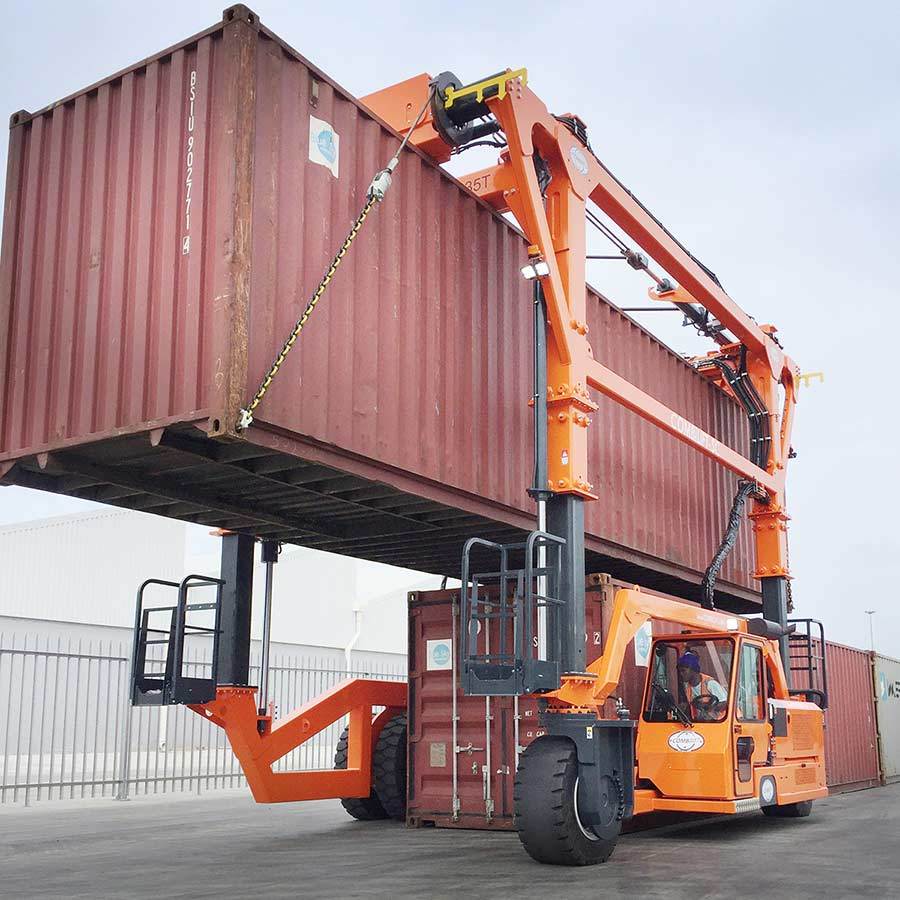 STANDARD TELESCOPIC
Low volume, standard chain, straddle carriers, for the loading and unloading from trailer to ground of containers and various loads.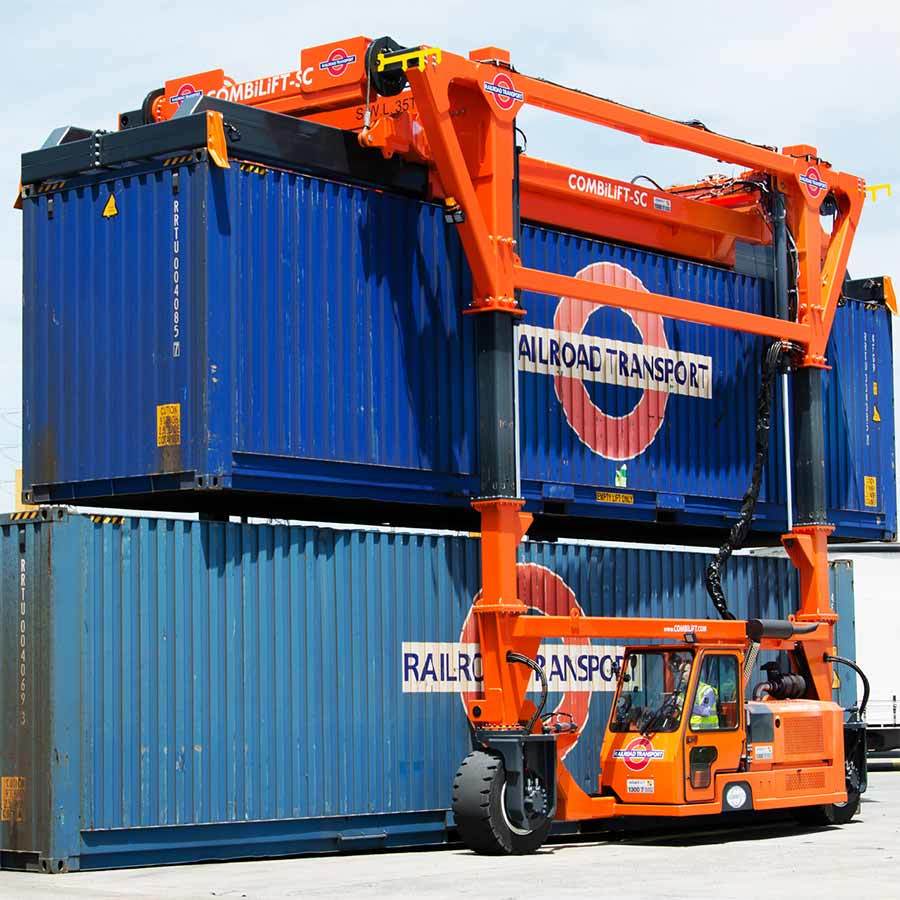 TOPLIFT TELESCOPIC
High volume, Straddle carriers for the loading and unloading of containers with telescopic function giving the ability to double stack containers.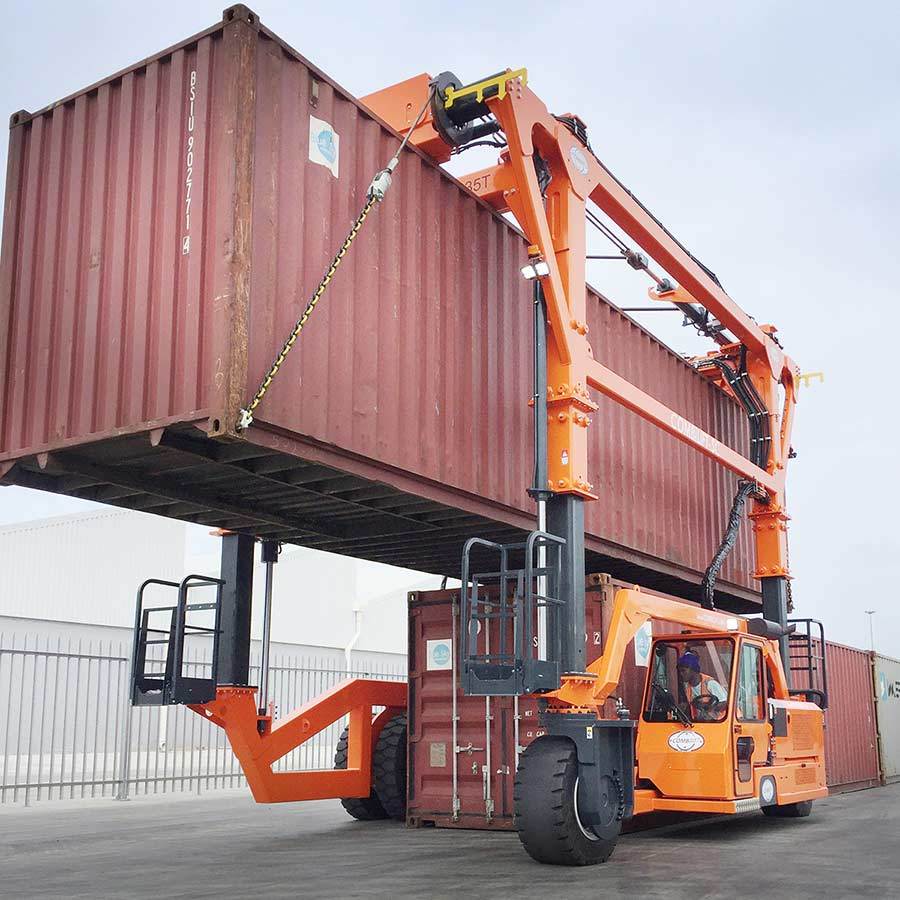 SPECIAL APPLICATION
Low volume, standard chain, straddle carriers, for the loading and unloading from trailer to ground of containers and various loads.